Not ready to close your pool? Go solar! Follow these tips and learn why solar pool heating in Florida is the best way to extend your swim season.
Fall is here and even in Florida, it gets too chilly to take a dip in your pool year-round. Have you thought about how you can extend your swim season? Solar pool heating in Florida is the smart way to keep swimming even when the days get shorter. We recommend that before installing a solar pool heating system, you do your homework and use our expertise at UMA Solar to make your decision about solar pool heating in Florida.
Why Should Homeowners Consider Solar?
First, let's talk about why solar is the best option for pool heating. If you've looked into the costs that come with an electric pool heater, you know that it can increase your electric bill by $120-$165 a month or more. But with Solar Pool Heating, the only thing that goes up is the temperature of your pool.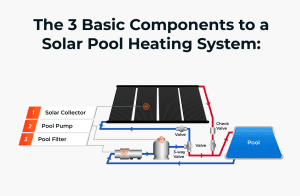 Since a solar pool heating system does not use electricity, the only costs you will incur are in materials and labor for installation. You'll also get a better warranty than with an electric pool heater. Our solar pool heating systems come with a 12-year warranty compared to a five-year warranty for most electric pool heating systems. Big difference!
The good news about solar equipment is that the cost is going down while the efficiency is going up. 
What Costs Are Involved In Solar Pool Heating In Florida?
Other than the cost of running your pool pump, there is no ongoing cost for a solar pool heating system once it's been installed. Let's break down your costs on materials and labor.
Materials – Typically you can use your existing pool pump which will pump your pool water up to your roof panels. There, the water is heated by the sun and flows back into your pool. This cycle continues until your pool has reached the temperature that you desire. 
The type of solar panels you choose will depend on your roof and the size of your pool. You can browse the products we offer and work with a dealer near you to find the best match for your needs.
Mounting Hardware – This component is crucial to the successful installation and performance of your solar panels. Different regions will require different types of hardware because of varying weather conditions. 
Labor – The local installation company you choose can give you details on labor costs. We are happy to help you find the best company to perform your installation. Be sure that your installation team is licensed and certified to do solar work. 
Get multiple quotes and look into the company before hiring them. You want to make sure they know what they are doing so that they install your system correctly and don't damage your roof or your pool.
Be sure that your installation company knows the best hardware options for your area and your roof type. We can match your roof with the best mounting hardware solutions.
Use UMA Solar For Your Solar Pool Heating Needs 
The bottom line is if you're looking to extend your swim season without raising your energy costs, solar pool heating in Florida is the way to go. You can learn more on our website and we are happy to help you find a dealer in your area. Contact us today to get started!